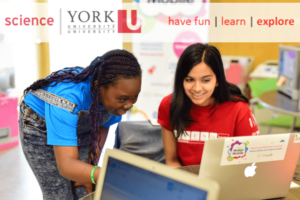 Kids will be excited to spend their break from school with Science Engagement Programs! Have fun with hands-on science experiments, games, and assistance with schoolwork from knowledgeable Instructors.
Open to grades 2 to 8, program will be delivered by undergraduate students with a qualified teacher. Join us as we explore Science, Technology, Engineering, and Mathematics (STEM), and computer science in a fun and safe environment on the York University Keele Campus.
Students will participate in a scheduled program that includes an interactive hands-on activity and time to work on asynchronous homework:

Frequently Asked Questions
The day will be made up of science experiments, games, and homework help:
8:30 am: Drop-off
9:30 am: STEM activity
11:00 am: Homework help
12:00 pm: Lunch break
1:00 pm: Homework help
2:30 pm: STEM activity
3:30 pm: Social Time (Supervised, unscheduled time)
4:30 pm: Pick-up
To cover the cost of our staff, the program is $75.00 per day.

We offer Financial Assistance for Science Engagement Programs, when funding is available. For more information, please click on the appropriate links or email explore@yorku.ca.
We encourage students to bring their school work and any devices they require to complete their work, including headphones for any synchronous classes. Basic school supplies will be available for use, such as paper, pencil, markers, scissors, etc.
If your child carries a cell phone with them, we ask that it be put on vibrate during program hours.
Science Engagement cannot be held responsible for any lost items.
Should you no longer be able to attend the program, please email (explore@yorku.ca) or call (416-736-2100 ext 44552 to let us know so we can release the spot to the next person on the list.
Payment is due by the night before the program to gain admittance. No refunds will be made for late arrivals or when a participant is absent, and missed days cannot be made up.