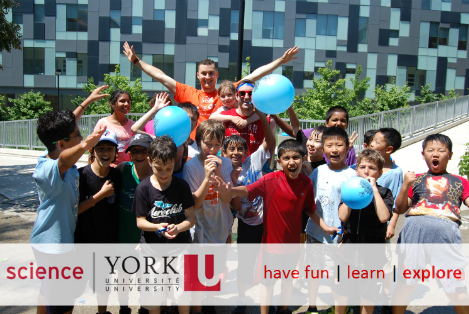 Registration for Science Explorations Summer 2017 is now closed.
Science Explorations Summer Day Camp are week-long camps during the months of July and August. Campers explore Science, Technology, Engineering, and Mathematics through hands-on and exciting experiments as connected to the Ontario Science Curriculum. Camps are developed and taught by undergraduate/graduate science or engineering students, Teacher Candidates, or Ontario Certified Teachers. Our camps take place at the York University Keele campus from 9:00am to 4:00pm every day.
Summer 2017 Camps
Frequently Asked Questions
1. Online : All registration is to be completed online using our online system. Your spot will be reserved upon receipt of payment.
5-day weeks: $280 per week per camper

4-day weeks: $225 per week per camper
2. After-Camp Care: We offer extended care from 5:00 to 6:00 pm for an additional $25 for the entire week.
Please note that we encourage campers to leave all electronic game devices at home, as we are not responsible if they are lost. If your child carries a cell phone with them, we ask that it be put on vibrate during camp hours.
We offer Financial Assistance for Science Engagement Programs, when funding is available. For more information, please click on the appropriate links or email explore@yorku.ca.

Bursary Policy Bursary Application Form
Please note that the deadline to apply for a Summer 2017 Bursary is Monday, May 22, 2017. After the deadline, applications will be assessed on a first come, first serve basis, depending on funding availability.

Cancellations made 21 calendar days prior to the start of the program are eligible for a full refund, minus a $75 administration fee per child, per course. Refunds will be given upon written notice of cancellation. No refunds will be made after the 21 calendar day deadline. No refunds will be given for days when a participant is absent and missed days cannot be made up.